THE JOURNEY TO FINANCIAL FREEDOM:
THE JOURNEY TO FINANCIAL FREEDOM:
Do you depend on one source of income? Would you be anxious in case that income stream dries up?
My boss informed me that the funding for the project I was working on had come to an end. My employer was contractually obligated to give me 3 months' notice. When I got the notice, I was sad but was not depressed. This is because I had prepared myself for such an eventuality.
Many of us unfortunately are neither given notice nor prepared when the axe of retrenchment and redundancy falls.
Saying I was prepared meant that I had managed to save up to 6 months' worth of my monthly living expense. Meaning that, I would still be able to meet my share or contribution to our family budget even if I stayed out of a job or had no other income for 6 months.
Honestly, accumulating that didn't happen overnight. It was a journey, one that I would love to share with you who is seeking financial freedom!
Join us in this practical journey!
Session 1: Envisioning your financial goals
Session 2: Budgeting & Debt management
Session 3: Multiplying your revenue streams
Session 4: Saving & Investing
Session 5: Turning your passion into profit
Fee: Ugx100,000 for each of the 5 sessions.
Duration : 5 sessions of 2 hours each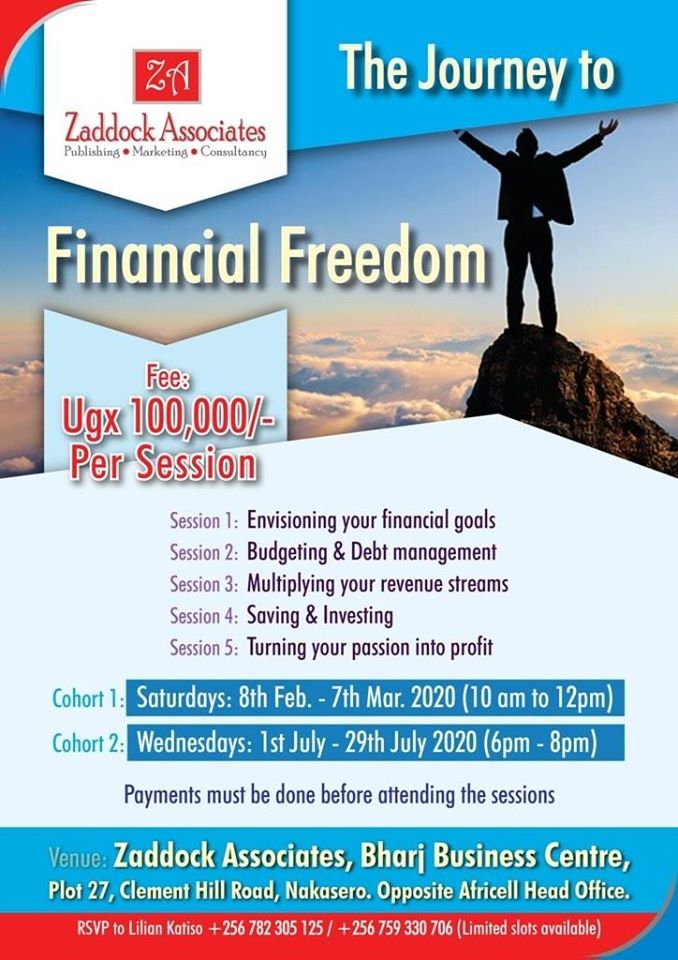 RSVP +256 782305125/ 759330706 (Limited slots available)